Satisfaction & Awards
Patient Satisfaction Results
The Hospital Quality Alliance releases Hospital Consumer Assessment of Healthcare Providers and Systems (HCAHPS) scores for hospitals nationwide on a quarterly basis. Midwest Surgical Hospital takes these scores very seriously, as they are given by our patients.
Patients at Midwest Surgical Hospital experience superior outcomes provided by physicians and staff dedicated to serving their needs.
We invite you to view these scores online. The HCAHPS survey consists of 27 questions and answers provided by patient after leaving the hospital.
Recognition & Awards
Midwest Surgical Hospital has experience a great deal of success in the short time since opening in 2008. The hospital has established itself as leader in patient satisfaction and health care, and is committed to the complete care and treatment of the patient. It is the dedication of physicians, administration and hospital staff that has earned Midwest Surgical Hospital the reputation of being one of the best.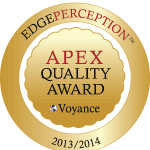 In 2012, 2013 and 2014, Midwest Surgical Hospital received the Edge Survey Apex Quality Award for recognition of excellence in overall patient satisfaction.

In 2014, Becker's Hospital Review named Midwest Surgical Hospital as "One of the 82 physician-owned hospitals to know in America". The Becker's Hospital Review editorial team selected these based on patient safety, patient satisfaction and overall quality ratings from recognized healthcare rating resources, and the list has been vetted by several industry experts.